Saturday, April 4th, 2009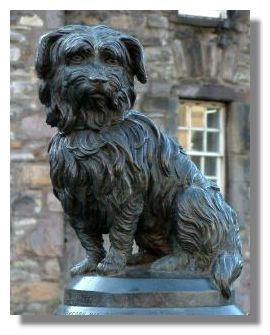 Right now, my daughter is in a phase of her childhood where she wants a dog.  We haven't gotten one yet, but we have started reading stories about dogs.  We began with two classic stories from very different parts of the world: Japan and Scotland.  One story is about Hachiko, a Japanese Akita-ken, who faithfully waited for his professor-master at the Shibuya railway station in Tokyo in the early part of the century even after his master died at work and failed to come home on his usual train. The other story is about Bobby, a Skye terrier who abided by his police-man master's grave in Greyfriars Kirkyard in Edinburgh, Scotland for fourteen years.  Both dogs have been immortalized in books and films.
For children's books on Hachiko, there is Hachiko Waits by Leslea Newman (illus. by Machiyo Kodaira), published in 2004 and Hachiko:The True Story of a Loyal Dog by Pamela Turner (illus. by Yan Nascimbene) also published the same year.  An Americanized movie version of the story is currently in the making called Hachiko: A Dog's Story.   Bobby was made famous by Eleanor Atkinson's 1912 book Greyfriars Bobby and it is on the basis of this book that movies were made about Bobby — namely Disney's 1961 Greyfriars Bobby and the more recent 2006 The Adventures of Greyfriars Bobby.  A more recent retelling of the story in book form is Ruth Brown's The Ghost of Greyfriars Bobby.
In addition to the books and movies, are monuments to the dogs themselves.  In Tokyo, Hachiko's statue is a prime meeting spot at busy Shibuya Station (I've met many a friend there) and Bobby's statue is in front of Greyfriars Bobby Pub not far from Greyfriars Kirkyard in Edinburgh.  If in your travels, you ever get a chance to go to these cities, you might want to visit these monuments to two very remarkable and loyal dogs.