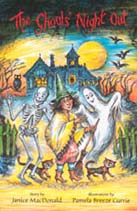 Halloween is just around the corner for North Americans this week, so I've chosen a book that celebrates the event.  The Ghoul's Night Out by Janice MacDonald (illus. by Pamela Breeze Currie) is a story about three ghouls — Annalise the Witch, Ernie the Ghost, and Milton the Skeleton — who experience Halloween trick-or-treating for the first time.  Normally these three happy occupants of a haunted house keep to themselves and enjoy Halloween from their perspective as ghouls.  One step out onto the yard on Halloween night ensures bagfuls of candy being dropped by fleeing and frightened trick-or-treaters.  Although Annalise wouldn't mind if some of these kids would drop in for a chat, she's quite happy to be the recipient of their largesse.
One autumn, however, the ghouls are prompted by a newspaper article to get involved in their community.  They decide the best way to do this is to go trick-or-treating themselves at Halloween.  What ensues is a comic adventure for the three civic-minded ghouls whose hearts are in the right place, but er, their appearances, not so much!
The Ghouls Night Out is a mid-grade reader aimed for kids, aged 6 to 10.   Divided into chapters with wonderful illustrations interspersed throughout, the story is best read a week or so before Halloween.  It's an excellent primer for the season's main event, occurring on October 31.  I've enjoyed reading this book to my kids before Halloween and recommend it highly.  It won the Our Choice Award given by the Canadian Children's Book Centre at the time of its publication.   Do you have any good books that celebrate this special event for kids? Do tell!