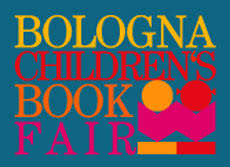 Spring is in the air which means it's time for the Bologna Children's Book Fair – the world's leading publishing fair covering all genres for infants, children and young adults. This year's fair, the 46th edition, will take place at the Bologna Exhibition Centre from March 23rd to 26th and will feature: 1300 exhibitors, 20,0000 square metres, 69 countries, 55 languages and over 4,800 foreign visitors. The exhibitors will include publishers, literary agents, packagers, printers, international organizations, TV and film producers, licensor and licensees, and service companies linked to the publishing world.
Along with the the exhibition of worldwide children's publishing and fabulous Programme of Events, highlights will include:
The Bologna Illustrators Exhibition – an exceptional display of children's book illustrations, selected by an international jury. The 2009 Guest of Honour of the Illustrators Exhibition will be Korea, a country with strong traditions in illustration, cartoons, and design. A special exhibit entitled "Round and Round in a Circle" will showcase the literature, history and customs of Korea through illustrations.
A special "show-in-show" dedicated to Roberto Innocenti, winner of the 2008 Hans Christian Andersen Prize for Illustration.
The Illustrators' Cafe – the ideal place to meet illustrators, authors, and publishers, discuss the latest developments, talk about everything related to illustration and attend special events. This is the place to be on March 24th when the announcement ofThe Astrid Lindgren Memorial Award for Literature will be broadcast live from Vimmerby, Sweden.
BolognaRagazzi Award – one of the most coveted prizes in children's publishing, this award is reserved for books with outstanding graphic and editorial design.
TV/Film & Licensing Centre, The Literary Agents Centre, and the World Directory of Children's Book Translators and Translators Centre
Last year two members of our PaperTigers team, Aline and Marjorie, were thrilled to be able to attend the fair and shared their experiences on our blog. Unfortunately this year no one from the PT team will be able to attend, but we want to know everything that is happening there! So this is our shout-out to those of you that will be attending. Will you be blogging about the event, twittering or facebooking? Loading up photos, emailing? Let us know!